About Me
Everything you (don't) want to know:

Artist's impression: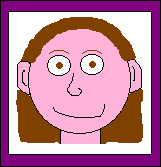 Top three five er, some favourite records:

The Charlatans: 'Just When You're Thinkin' Things Over'

Manic Street Preachers: 'Motorcycle Emptiness'

Tindersticks: 'Tiny Tears'

Elastica - 'Waking Up'

The Velvet Underground: 'Oh! Sweet Nuthin''

Jonathan Richman - 'Roadrunner'

Bob Dylan - 'Subterranean Homesick Blues'

Top three favourite films:

Gregory's Girl

Grosse Pointe Blank

Trainspotting

Top three best gigs:

Blur/Super Furry Animals @ Brixton Academy, 1997

Green Day @ The Astoria, 1998

Pulp @ Reading Festival, 1999

Likes:

(In no particular order) John Peel

, moshing, The Clash, pessimism, Belle and Sebastian, DMs, indie kids, John Cusack, Bagpuss, cups of tea, Scottish actors, nonsensical rabbit related catchphrases ("That's the bunny", "I'm not a happy bunny", "Put the bunny back in the box"…), Steve Lamacq, Melody Maker (RIP) and alcoholic beverages

Dislikes:

(Mainly bordering on irrational hatred) Daphne and Celeste, male-only pop combos (Westlife, Boyzone, NSync, Shed Seven), indecipherable lyrics (cf. Tindersticks, Bob Dylan, Shaun Ryder), peas, arrogant NME journalists, those unopenable milk carton things and Countdown

Ambitions:

(They'll never happen, sigh)
Rule the world;
Become a member of Oasis (well, it seems anyone else can) or My Life Story (there's already 11 of them: one more on tambourine wouldn't make any difference);
Hijack every British radio station and force them to play Clinic and Gorky's Zygotic Mynci ALL DAY (note to DJs: that's how we feel when you put Mel C on constant rotation, geddit?);
NB. Information included is not definitive. And no, I don't bear any resemblance whatsoever to Alyson Hannigan.